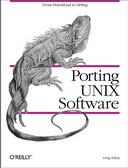 This book deals with the whole life cycle of porting, from setting up a source tree on your system to correcting platform differences and even testing the executable after it's built. It exhaustively discusses the differences between versions of UNIX and the areas where porters tend to have problems.
Book Description
This book is about porting software between UNIX platforms, the process of taking a software package in source form and installing it on your machine. This doesn't sound like a big deal at first, but there's more to it than meets the eye: you need to know how to get the software, how to unpack what you get, how to modify the package so that it will compile on your system, how to compile and install the software on your system, and how to deal with problems
if they crop up.
Table of Contents
Introduction
Unpacking the goodies
Care and feeding of source trees
Package configuration
Building the package
Running the compiler
Documentation
Testing the results
Installation
Where to go from here
Hardware dependencies
Kernel dependencies
Signals
File systems
Terminal Drivers
Timekeeping
Header files
Function libraries
Make
Compilers
Object files and friends
Download Free PDF / Read Online
Author(s): Greg Lehey
Format(s): PDF
Number of pages: 437
Link:
Download.