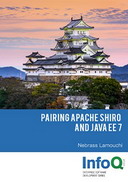 Learn how to use Shiro in a JavaEE7 application and how to use it in a web application. This book will help you find out what Shiro actually is, and will help you to secure your Java EE project from scratch and to understand the security philosophy.
You will learn the big picture and how to set up Apache Shiro, which will give you a better understanding of the fundamentals of the framework. You will be introduced to the authentication and authorization flows and the different possible models of security.
Book Description
Topics included: Introduction • The Shiro Philosophy • Sample Technology Stack • The Tutorial •
What's Next? • Do It Now!.
Download Free PDF / Read Online
Author(s): Nebrass Lamouchi
Publisher: C4Media
Published: May 2016
Format(s): PDF, ePub, Mobi(Kindle)
File size: 5.66 MB
Number of pages: 74
Download / View Link(s): PDF, ePub, Mobi