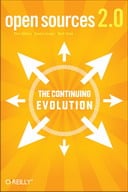 Free book from O'Reilly Commons. Open Sources 2.0 is a collection of insightful and thought-provoking essays from today's technology leaders that continues painting the evolutionary picture that developed in the 1999 book Open Sources: Voices from the Revolution .
Book Description
These essays explore open source's impact on the software industry and reveal how open source concepts are infiltrating other areas of commerce and society. The essays appeal to a broad audience: the software developer will find thoughtful reflections on practices and methodology from leading open source developers like Jeremy Allison and Ben Laurie, while the business executive will find analyses of business strategies from the likes of Sleepycat co-founder and CEO Michael Olson and Open Source Business Conference founder Matt Asay.
Table of Contents
The Mozilla Project: Past and Future
Open Source and Proprietary Software Development
A Tale of Two Standards
Open Source and Security
Dual Licensing
Open Source and the Commoditization of Software
Open Source and the Commodity Urge: Disruptive Models for a Disruptive Development Process
Under the Hood: Open Source and Open Standards Business Models in Context
Open Source and the Small Entrepreneur
Why Open Source Needs Copyright Politics
Libre Software in Europe
OSS in India
When China Dances with OSS
How Much Freedom Do You Want?
Making a New World
The Open Source Paradigm Shift
Extending Open Source Principles Beyond Software Development
Open Source Biology
Everything Is Known
The Early History of Nupedia and Wikipedia: A Memoir
Open Beyond Software
Patterns of Governance in Open Source
Communicating Many to Many
Download Free PDF / Read Online
Author(s): Danese Cooper, Chris DiBona and Mark Stone.
Publisher: O'Reilly Media
Format(s): HTML
Number of pages: 496
Link:
Read online.