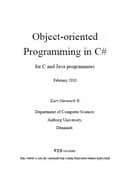 "Object-oriented Programming in C# for C and Java programmers", written by Kurt Nørmark, is a complete textbook available online or as a pdf download. It also includes slides.
Book Description
This is a free book about object-oriented programming, illustrated with use of the programming language C#. It is assumed, as a prerequisite, that the readers have some knowledge about imperative programming, preferably knowledge about C. I believe that it is best to learn object-oriented programming after having learned and worked with imperative programming. Thus, we adhere to an "object later approach".
Table of Contents
Introduction to object-oriented programming
Introduction to c#
Classes and objects
Reference types, value types, and patterns
Data access, properties, and methods
Operators, delegates, and events
Specialization, extension, and inheritance
Abstract classes, interfaces, and patterns
Exception handling
Input and output classes
Generic types and methods
Collection classes
Contracts and assertions
Test of object-oriented programs
Documentation of object-oriented programs
Download Free PDF / Read Online
Author(s): Kurt Nørmark
Format(s): PDF, HTML
File size: 2.90 MB
Number of pages: 485
Link:
Download.
|
Read online.