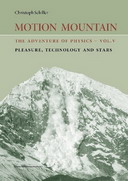 With little mathematics, the text explores the most fascinating parts of mechanics, thermodynamics, special and general relativity, electrodynamics, quantum theory and modern attempts at unification. Written in English, its over 1200 pages are provided for students, teachers, and for anybody who is interested in the precise description of nature.
Table of Contents
Volume I – FALL, FLOW AND HEAT
Why should we care about motion?
From motion measurement to continuity
How to describe motion – kinematics
From objects and images to conservation
From the rotation of the Earth to the relativity of motion
Motion due to gravitation
Classical mechanics and the predictability of motion
Measuring change with action
Motion and symmetry
Simple motions of extended bodies – oscillations and waves
Do extended bodies exist? – Limits of continuity
From heat to time-invariance
Self-organization and chaos – the simplicity of complexity
From the limitations of physics to the limits of motion
Volume II – RELATIVITY
Maximum speed, observers at rest, and motion of light
General relativity: gravitation, maximum speed and maximum force
The new ideas on space, time and gravity
Motion in general relativity – bent light and wobbling vacuum
Why can we see the stars?
Black holes – falling forever
Does space differ from time?
General relativity in ten points – a summary for the layman
Volume III – LIGHT, CHARGES AND BRAINS
Liquid electricity, invisible fields and maximum speed
The description of electromagnetic field evolution
What is light?
Images and the eye – optics
Electromagnetic effects
Summary and limity of classical electrodynamics
Classical physics in a nutshell
The story of the brain
Thought and language
Concepts, lies and patterns of nature
Volume IV – QUANTUM THEORY: THE SMALLEST CHANGE
Minimum action – quantum theory for poets
Light – the strange consequences of the quantum of action
Motion of matter – beyond classical physics
Colours and other interactions between light and matter
Permutation of particles – Are particles like gloves?
Rotations and statistics – visualising spin
Superpositions and probabilities – quantum theory without ideology
Quantum physics in a nutshell
Download Free PDF / Read Online
Author(s): Christoph Schiller
Format(s): PDF
File size: 180 MB
Link:
Download.