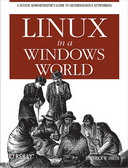 Free Linux book from O'Reilly Commons. This book takes an in-depth look at exactly how Linux can be brought into an organization that's currently based on Microsoft Windows systems. Featuring a litany of insider tips and techniques, Linux in a Windows World dispenses all the practical advice you need to migrate to this revolutionary open source software.
Book Description
This book will help you reduce costs and improve reliability by describing how several common Linux programs and protocols—Samba, OpenLDAP, VNC, BIND, and so on—can be integrated into a Windows network. This book provides enough information to get any of these programs up and running, provided you've already got a working Linux system. Of course, a book of this size can't cover every detail; if you need to do very complex things, you'll need to consult other books or documentation. The relevant chapters provide pointers.
Table of Contents
Linux's Features
Linux Deployment Strategies
Basic Samba Configuration
File and Printer Shares
Managing a NetBIOS Network with Samba
Linux as an SMB/CIFS Client
Using NT Domains for Linux Authentication
Using LDAP
Kerberos Configuration and Use
Remote Text-Mode Administration and Use
Running GUI Programs Remotely
Linux Thin Client Configurations
Configuring Mail Servers
Network Backups
Managing a Network with Linux
Download Free PDF / Read Online
Author(s): Roderick W. Smith
Publisher: O'Reilly Media
Format(s): HTML
Number of pages: 496
Link:
Read online.