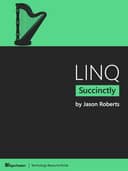 Learn to use LINQ to simplify the process of coding and querying in C# and Visual Basic. LINQ Succinctly will guide you through the process, from conceptual understanding to practical implementation. With the help of author Jason Roberts, you will be streamlining your coding and querying practices in no time.
Book Description
Topics included: LINQ Fundamentals • Fluent and Query Expression Styles • LINQ Query Operators • LINQ to XML • Interpreted Queries • Parallel LINQ • LINQ Tools and Resources.
Download Free PDF / Read Online
Author(s): Jason Roberts
Publisher: Syncfusion Inc.
Published: May 2015
Format(s): PDF, Mobi(Kindle)
File size: 1.32 MB
Number of pages: 112
Download / View Link(s): PDF, Mobi