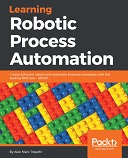 With Learning Robotic Process Automation, design, test, and perform enterprise automation task with UiPath. Create Automation apps and deploy them to all the computers in your department. (Limited-time offer)
Book Description
Topics included: What is Robotic Process Automation? • Record and Play • Sequence, Flowchart, and Control Flow • Data Manipulation • Taking Control of the Controls • Tame that Application with Plugins and Extensions • Handling User Events and Assistant Bots • Exception Handling, Debugging, and Logging • Managing and Maintaining the Code • Deploying and Maintaining the Bot.
Download Free PDF / Read Online
Author(s): Alok Mani Tripathi
Publisher: Packt Publishing
Published: March 2018
Format(s): Online
File size: –
Number of pages: 360
Download / View Link(s): This offer has ended.
Free as of 07/09/2019.