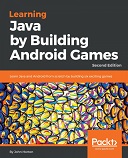 With Learning Java by Building Android Games – Second Edition, build games including Sub Hunter, Retro Pong, Bullet Hell, Classic Snake, and a 2D Scrolling Shooter. Create and design your own games, such as an open-world platform game. (Limited-time offer)
Table of Contents
Java, Android and Game Development
Java: First Contact
Variables, Operators and Expressions
Structuring Code with Java Methods
The Android Canvas Class – Drawing to the Screen
Repeating Blocks of Code with Loops
Making Decisions with Java If, Else and Switch
Object-Oriented Programming
The Game Engine, Threads, and The Game Loop
Coding the Bat and Ball
Collisions, Sound Effects and Supporting Different Versions of Android
Handling Lots of Data with Arrays
Bitmap Graphics and Measuring Time
The Stack, the Heap, and the Garbage Collector
Android Localization -Hola!
Collections, Generics and Enumerations
Manipulating Bitmaps and Coding the Snake class
Introduction to Design Patterns and much more!
Listening with the Observer Pattern, Multitouch and Building a Particle System
More Patterns, a Scrolling Background and Building the Player's ship
Completing the Scrolling Shooter Game
Exploring More Patterns and Planning the Platformer Project
The Singleton Pattern, Java HashMap, Storing Bitmaps Efficiently and Designing Levels
Sprite-sheet animations, Controllable Player and Parallax Scrolling Backgrounds
Intelligent Platforms and Advanced Collision Detection
What next?
Download Free PDF / Read Online
Author(s): John Horton
Publisher: Packt Publishing
Published: August 2018
Format(s): Online
File size: –
Number of pages: 774
Download / View Link(s): Claim this offer
Free as of 07/22/2019 06/09/2020 08/02/2021.