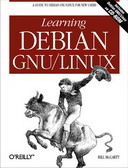 Learning Debian GNU/Linux is a free linux book to learn Debian Linux from O'Reilly Open Books Project. Learning Debian GNU/Linux guides the new user of Linux through the installion and configuration of Debian GNU/Linux.
Book Description
Debian is the purely Open Source Linux distribution, crafted and maintained by a worldwide network of volunteers. Windows users will gain a gentle introduction to this exciting computing world guided by Bill McCarty in Learning Debian GNU/Linux.
Table of Contents
Why Run Linux?
Preparing to Install Linux
Installing Linux
Issuing Linux Commands
Installing and Configuring the X Window System
Using the X Window System
Configuring and Administering Linux
Using Linux Applications and Clients
Playing Linux Games
Setting Up a Linux-Based LAN
Getting Connected to the Internet
Setting Up a Linux-Based WAN
Conquering the BASH Shell
Download Free PDF / Read Online
Author(s): Bill McCarty
Format(s): HTML
Number of pages: 360
Link:
Read online.