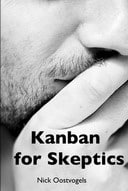 "Kanban for skeptics: Clear answers to Kanban in software development", by Nick Oostvogels, is available as a downloadable eBook with a minimum price of $0.00 from Leanpub.
Book Description
When Kanban (with a "K") is used in the field of software engineering, it is used in a much broader sense. Kanban is a change management approach that employs a WIP limited pull system. For me it is an approach to change your process into one that focuses on end to end value and reliably delivering stuff, with high quality. The limited set of rules and principles help people focus on customer value and avoid building up half finished work, which is still a common issue in the software industry.
Table of Contents
What is Kanban?
We lose our ability to plan
It will take longer
Things will get stuck, we can't keep WIP limits
Stakeholders don't care about feeding the flow
We will lose team cohesion
Summary
Extras
Software development is not manufacturing
Download Free PDF / Read Online
Author(s): Nick Oostvogels
Publisher: Leanpub
Format(s): PDF, ePub, Mobi
File size: 6.57 MB(PDF)
Number of pages: 83
Link:
Download.