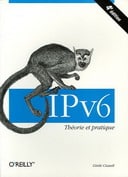 IPv6, théorie et pratique is in French. It is available online and the Google Language Tool does a good job of translating it to English.
Book Description
This book provides an update on the work around the standardization of IPv6, what can currently be tested, the problems encountered during development, tracks and planned to resolve the issues that are still in the research.It is aimed at graduate students to engineers concerned with preparing the evolution of their networks. This book can serve as a reference to this new version of IP, giving many examples from real cases.
Table of Contents
Introduction
Addressing
Network and transport protocols
Automatic configuration and control
Transmission media
Installation of equipment
Routing
Routers
Multicast
security
Mobility in IPv6
Integration of IPv6 applications
Application Programming
Supervision
History of the standardization of IPv6
Download Free PDF / Read Online
Author(s): Gisèle Cizault
Publisher: O'Reilly
Format(s): HTML
Number of pages: 467
Link:
Read online.