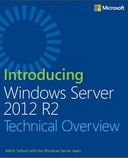 Introducing Windows Server 2012 R2 Technical Overview is intended to provide you with an overview of the new features and enhancements introduced in Windows Server 2012 R2. The intended audience for this book is IT pros who deploy, manage, and maintain Windows Server workloads in data center, private cloud, and hosting provider environments.
Book Description
Topics included: Cloud OS • Hyper-V • Storage • Failover Clustering • Networking • Active Directory • Group Policy • IIS • Remote Desktop Services • Windows PowerShell • Windows Server Essentials.
Download Free PDF / Read Online
Author(s): Mitch Tulloch with the Windows Server team.
Publisher: Microsoft Press
Published: November 2013
Format(s): PDF, ePub, Mobi(Kindle)
File size: 11.35 MB
Number of pages: 242
Download / View Link(s): PDF | ePub | Mobi