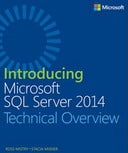 In this book, the authors explain how SQL Server 2014 incorporates in-memory technology to boost performance in online transactional processing (OLTP) and data-warehouse solutions. They also describe how it eases the transition from on-premises solutions to the cloud with added support for hybrid environments.
Book Description
Topics included: SQL Server 2014 editions and engine enhancements • In-Memory OLTP investments • High-availability, hybrid-cloud, and backup enhancements • Exploring self-service BI in Microsoft Excel 2013 • Introducing Power BI for
Office 365 • Big data solutions.
Download Free PDF / Read Online
Author(s): Ross Mistry and Stacia Misner.
Publisher: Microsoft Press
Published: April 2014
Format(s): PDF, ePub, Mobi
File size: 8.09 MB
Number of pages: 144
Download / View Link(s): PDF | ePub | Mobi