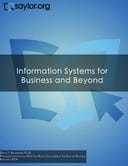 Information Systems for Business and Beyond, written by David T. Bourgeois, introduces the concept of information systems, their use in business, and the larger impact they are having on our world. It is written as an introductory text, meant for those with little or no experience with computers or information systems.
Book Description
Topics included: What Is an Information System? • Hardware • Software • Data and Databases • Networking and Communication • Information Systems Security • Does IT Matter? • Business Processes • The People in Information Systems • Information Systems Development • Globalization and the Digital Divide • The Ethical and Legal Implications of Information Systems • Future Trends in Information Systems.
Download Free PDF / Read Online
Author(s): David T. Bourgeois, PhD
Publisher: The Saylor Foundation, Textbook Equity.
Published: March 2014
Format(s): PDF, Doc, ePub, Mobi and HTML(Online).
File size: 4.32 MB
Number of pages: 167
Download / View Link(s): PDF | Doc | ePub | Mobi | HTML(Online) | Alternative link