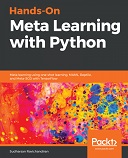 With Hands-On Meta Learning with Python, explore practical examples to explore various one-shot learning algorithms with its applications in TensorFlow. Master state of the art meta learning algorithms like MAML, reptile, meta SGD. (Limited-time offer)
Book Description
Topics included: Introduction to Meta Learning • Face and Audio Recognition Using Siamese Networks • Prototypical Networks and Their Variants • Relation and Matching Networks Using TensorFlow • Memory-Augmented Neural Networks • MAML and Its Variants • Meta-SGD and Reptile • Gradient Agreement as an Optimization Objective • Recent Advancements and Next Steps.
Download Free PDF / Read Online
Author(s): Sudharsan Ravichandiran
Publisher: Packt Publishing
Published: December 2018
Format(s): Online
File size: –
Number of pages: 226
Download / View Link(s): This offer has ended.
Free as of 10/20/2019.