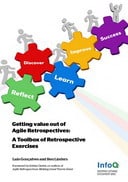 Getting Value out of Agile Retrospectives – A Toolbox of Retrospective Exercises contains many exercises that you can use to do retrospectives, supported with the "what" and "why" of retrospectives, the business value and benefits that they can bring you, and advice for introducing and improving retrospectives.
Book Description
Topics included: Introduction • What is an Agile Retrospective? • Why Do We Do Retrospectives? • Business Value of Agile Retrospectives • Pre-Requirements for Retrospectives • Designing a Retrospective • Retrospective Exercises • The Benefits of Retrospectives • Adopting Agile Retrospectives.
Download Free PDF / Read Online
Author(s): Luis Gonçalves and Ben Linders.
Publisher: Leanpub/InfoQ
Published: December 2013
Format(s): PDF, ePub, Mobi(Kindle)
File size: 664 KB
Number of pages: 75
Download / View Link(s): PDF, ePub, Mobi(Kindle)