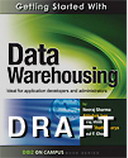 This free eBook from DB2 on Campus book series, "Getting started with Data Warehousing", is for enthusiasts of data warehousing who have limited exposure to databases and would like to learn data warehousing concepts end-to-end. Learn what Data Warehousing is all about and practice using hands-on exercises.
Book Description
This book intends to help professionals understand the main concepts and get started with data warehousing. The book aims to maintain an optimal blend of depth and breadth of information, and includes practical examples and scenarios.
Table of Contents
Introduction to Data Warehousing
Data Warehouse Architecture and Design
Hardware Design Considerations
Extract Transform and Load (ETL)
Using the Data Warehouse for Business Intelligence
A Day in the Life of Information (an End to End Case Study)
Data Warehouse Maintenance
A Few Words about the Future
Download Free PDF / Read Online
Author(s): Neeraj Sharma, Abhishek Iyer, Rajib Bhattacharya, Niraj Modi and Wagner Crivelini.
Publisher: IBM Corporation
Format(s): PDF
File size: 3.13 MB
Number of pages: 157
Link:
Download.