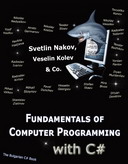 Fundamentals of Computer Programming with C# provides novice programmers a solid foundation of fundamental principles and concepts of programming.
Book Description
This book is designed specifically to teach you to think like a programmer and the C# language is just a tool that can be replaced by any other modern programming languages, such as Java, C++, PHP or Python. This is a book on programming, not a book on C#!
Table of Contents
Introduction to Programming
Primitive Types and Variables
Operators and Expressions
Console Input and Output
Conditional Statements
Loops
Arrays
Numeral Systems
Methods
Recursion
Creating and Using Objects
Exception Handling
Strings and Text Processing
Defining Classes
Text Files
Linear Data Structures
Trees and Graphs
Dictionaries, Hash-Tables and Sets
Data Structures and Algorithm Complexity
Object-Oriented Programming Principles
High-Quality Programming Code
Lambda Expressions and LINQ
Methodology of Problem Solving
Download Free PDF / Read Online
Author(s): Svetlin Nakov, Veselin Kolev and team.
Publisher: Telerik Software Academy
Published: 2013
Format(s): PDF, HTML(Online)
File size: 13.64 MB
Number of pages: 1132
Download / View Link(s): Download or read online.