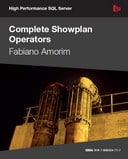 Another free ebook from Simple Talk Publishing High Performance SQL Server series, "Complete Showplan Operators" by Fabiano Amorim can be downloaded in PDF and ePub formats.
Book Description
Writing good TSQL code is not an easy task. Then you submit the code to the query optimizer and strange things happen. The one good view you have into what the optimizer decided to do is provided by the execution plans. Understanding execution plans is a lot of work. Trust me on that. What you need to really understand your queries is as much knowledge as you can get. That's where this excellent collection of articles on some of the more common execution plan operators comes in.

Fabiano Amorim has taken the time to really drill into the behavior of a small set of execution plan operators in an effort to explain the optimizer's behavior. He's explored why things happen, how you can change them, positively or negatively, and he's done it all in an approachable style. You want information and knowledge in order to achieve understanding.
Table of Contents
Assert
Concatenation
Compute Scalar
BookMark/Key Lookup
Spools – Eager Spool
Compute Scalar
BookMark/Key Lookup
Eager Spool
Lazy Spool
Non-Clustered Index Spool
Row Count Spool
Stream Aggregate.
SORT
Merge Join
Merge Interval
Split, Sort, Collapse
Download Free PDF / Read Online
Author(s): Fabiano Amorim
Format(s): PDF, ePub
File size: 8.57 MB
Number of pages: 142
Link:
Download.