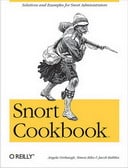 Read Snort Cookbook online for free from O'Reilly Commons. Designing a reliable way to detect intruders before they get in is an essential but often overwhelming challenge.
Book Description
Snort, the defacto open source standard of intrusion detection tools, is capable of performing real-time traffic analysis and packet logging on IP network. It can perform protocol analysis, content searching, and matching. Snort can save countless headaches; the new Snort Cookbook will save countless hours of sifting through dubious online advice or wordy tutorials in order to leverage the full power of SNORT.
Table of Contents
Installation and Optimization
Logging, Alerts, and Output Plug-ins
Rules and Signatures
Preprocessing: An Introduction
Administrative Tools
Log Analysis
Miscellaneous Other Uses
Download Free PDF / Read Online
Author(s): Jacob Babbin, Simon Biles and Angela D. Orebaugh.
Format(s): HTML
Number of pages: 288
Link:
Read online.