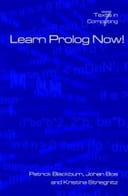 "Learn Prolog Now!", written by Patrick Blackburn, Johan Bos, and Kristina Striegnitz, is an introductory course to programming in Prolog. The online version has been available since 2001, and now there is also a throughly revised version available in book form.
Book Description
Learn Prolog Now! is a practical introduction to this fascinating language. Freely available as a web-book since 2002 Learn Prolog Now! has became one of the most popular introductions to the Prolog programming language, an introduction prized for its clarity and down-to-earth approach. It is widely used as a textbook at university departments around the world, and even more widely used for self study.
Table of Contents
Facts, Rules, and Queries
Unification and Proof Search
Recursion
Lists
Arithmetic
More Lists
Definite Clause Grammars
More Definite Clause Grammars
A Closer Look at Terms
Cuts and Negation
Database Manipulation and Collecting Solutions
Working With Files
Download Free PDF / Read Online
Author(s): Patrick Blackburn, Johan Bos, and Kristina Striegnitz.
Publisher: College Publications
Format(s): HTML
Number of pages: 284
Link:
Read online.