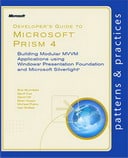 You can read "Developer's Guide to Microsoft® Prism 4" for free on MSDN. This guide provides everything you need to get started with Prism and to use it to create flexible, maintainable Windows® Presentation Foundation (WPF) and Microsoft Silverlight® 4.0 applications.
Book Description
Prism is intended for software developers building WPF or Silverlight applications that typically feature multiple screens, rich user interaction and data visualization, and that embody significant presentation and business logic. These applications typically interact with a number of back-end systems and services and, using a layered architecture, may be physically deployed across multiple tiers. It is expected that the application will evolve significantly over its lifetime in response to new requirements and business opportunities. In short, these applications are "built to last" and "built for change." Applications that do not demand these characteristics may not benefit from using Prism.
Table of Contents
What's New in Prism 4.0
Introduction
Initializing Prism Applications
Managing Dependencies Between Components
Modular Application Development
Implementing the MVVM Pattern
Advanced MVVM Scenarios
Composing the User Interface
Navigation
Communicating Between Loosely Coupled Components
Sharing Code Between Silverlight and WPF
Deploying Prism Applications
Download Free PDF / Read Online
Author(s): Bob Brumfield, Geoff Cox, David Hill, Brian Noyes, Michael Puleio and Karl Shifflett.
Format(s): PDF, CHM
File size: 14.07 MB
Number of pages: 342
Link:
Download or read online.