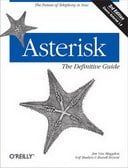 You can read "Asterisk The Definitive Guide Third Edition" online for free from O'Reilly Labs Open Feedback Publishing System.
Book Description
Revised for the upcoming 1.8 release of the Asterisk open source PBX, this bestselling guide provides a complete roadmap for installing, configuring, and integrating this powerful software with existing phone systems. Asterisk: The Definitive Guide has everything you need to know to design a complete system with little or no Asterisk experience, and no more than rudimentary telecommunications knowledge.
Table of Contents
Android Overview
The Stack
Quick Start
Main Building Blocks
Yamba Project Overview
Android User Interface
Preferences, File System, Options Menu, and Intents
Services
Database
Lists and Adapters
Broadcast Receivers
Content Providers
System Services
Android Interface Definition Language
Native Development Kit (NDK)
Download Free PDF / Read Online
Author(s): Leif Madsen,Jim Van Meggelen and Russell Bryant
Format(s): HTML
Number of pages: 736
Link:
Read online.