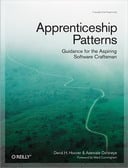 You can read "Apprenticeship Patterns: Guidance for the Aspiring Software Craftsman" online from O'Reilly Labs Open Feedback Publishing System.
Book Description
Apprenticeship Patterns cataloges dozens of behavior patterns to help you perfect essential aspects of your craft. Compiled from years of research, many interviews, and feedback from O'Reilly's online forum, these patterns address difficult situations that programmers, administrators, and DBAs face every day.

This book is written for the person who has had a taste of software development and aspires to become a great software developer. You may be a web developer or a medical device programmer, or you may be building trading applications for a financial institution. Or perhaps you have just graduated from high school or college knowing that software is your future.
Table of Contents
Software Craftsmanship Manifesto
Introduction
Emptying the Cup
Walking the Long Road
Accurate Self-Assessment
Perpetual Learning
Construct Your Curriculum
Pattern List
A Call for Apprenticeship
A Retrospective on the First Year of Obtiva's Apprenticeship Program
Download Free PDF / Read Online
Author(s): Dave Hoover and Adewale Oshineye
Format(s): HTML
Number of pages: 176
Link:
Read online.