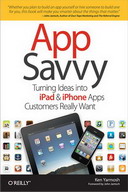 Read "App Savvy: Turning Ideas into iPad and iPhone Apps Customers Really Want" by Ken Yarmosh for free from O'Reilly Media's Open Feedback Publishing System. How can you make your iPad or iPhone app stand out in the highly competitive App Store?
Book Description
While many books simply explore the technical aspects of iPad and iPhone app design and development, App Savvy also focuses on the business, product, and marketing elements critical to pursuing, completing, and selling your app. Whether you're a designer, developer, entrepreneur, or just someone with a unique idea, this book explains every step in the process, with guidelines for planning a solid concept, engaging customers early and often, developing your app, and launching it with a bang.
Table of Contents
You Have an App Idea…Now What?
Finding Your Inner App
From Idea to Concept
For Hire: Identifying Help
Getting a Working App
Making Your App Better Before the App Store
Preparing for the App Store Submission
Building Your Marketing Crescendo
Measuring Success and Future Development
Afterword: When Mobile is No Longer the Exception
Download Free PDF / Read Online
Author(s): A Bijlsma, BJ Heeren, EE Roubtsova and S Stuurman.
Format(s): HTML
Number of pages: 352
Link:
Read online.