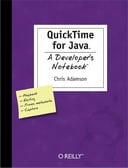 Free Java book from O'Reilly Commons. Java developers who need to add audio, video, or interactive media creation and playback to their applications find that QuickTime Java is a powerful toolkit, but one that's not easy to get into.
Book Description
This book offers the first real look at this important software with an informal, code-intensive style that lets impatient early adopters focus on learning by doing. You get just the functionality you need.
Table of Contents
Getting Up and Running with QuickTime for Java
Playing Movies
Editing Movies
Working with Components
Working with QuickDraw
Capture
Audio Media
Video Media
Miscellaneous Media
Download Free PDF / Read Online
Author(s): Chris Adamson
Format(s): HTML
Number of pages: 256
Link:
Read online.