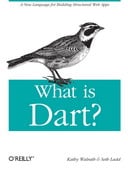 "What is Dart?: A new language for building structured web apps", by Kathy Walrath and Seth Ladd, published by O'Reilly Media, is available in pdf, epub and mobi formats for free. Dart is a new language developed by Google that's getting attention in web app circles.
Book Description
Dart is an open-source project that aims to enable developers to build more complex, highly performant apps for the modern web. Using the Dart language, you can quickly write prototypes that evolve rapidly, and you also have access to advanced tools, reliable libraries, and good software engineering techniques.
Table of Contents
Why Did Google Create Dart?
Does the Web Really Need Another Language?
Show Me the Code
How Can I Play with Dart?
How About a Real Editor?
What's New About Dart?
Why Does Dart Look so Familiar?
What Is in the Dart Platform?
Should I Use Dart for My App Today?
How Do You Expect People to Use Dart?
How Can I Compile to JavaScript?
What Libraries Are Available?
Show Me More Code
Where Can I Learn More?
Download Free PDF / Read Online
Author(s): Kathy Walrath and Seth Ladd
Format(s): PDF, ePub, Mobi
File size: 1.60 MB
Number of pages: 22
Link:
Download.