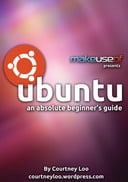 "Ubuntu – An Absolute Beginner's Guide" is the latest free eBook from MakeUseOf. Download this 32 page Ubuntu guide in pdf format. This guide was written for beginners and will tell you everything you need to know about the Ubuntu experience.
Book Description
Ubuntu is a free/libre, open-source computer operating system with 20 million users worldwide. But it's also so much more than that: it is an ethos, a collaborative project and, first and foremost, Ubuntu is a community of people. If you're reading this guide, you're probably interested in moving away from proprietary operating systems such as Windows and Mac OS X; perhaps you've already installed Ubuntu on your computer but are not sure where to start.

You will learn how to do the following:
• install and set up Ubuntu on your computer
• find technical support in your community
• understand the Ubuntu philosophy
• navigate the Unity desktop interface
• use Ubuntu compatible software programs
Table of Contents
Introduction 5
Ubuntu 101
Ubuntu Releases
Installing Ubuntu
Support & Community
Getting Started With Unity
Ubuntu Applications (How Do I…?)
Download Free PDF / Read Online
Author(s): Courtney Loo
Format(s): PDF
File size: 8.85 MB
Number of pages: 32
Link:
Download.