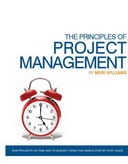 Preview "Free eBook: The Principles Of Project Management" by Meri Williams from SitePoint. This book is for anyone who wants to learn enough project management to ensure their projects succeed. You won't become a world authority on the project management discipline, but you will become an effective and efficient project manager.
Book Description
Although some of the examples in this book focus on projects that address technological or systems-related issues—a growing industry in need of skilled project managers!—the book is intended for anyone who needs to manage projects of any sort.

Every project you manage will be unique. Scope, budgets, team dynamics, and timeframes will differ. As a project manager, the most important factor in achieving project success will be your understanding of 'The Principles Of Project Management'. This book will show you that project management isn't rocket science: using the information contained in this book, you'll deliver projects on time and on budget, again and again.
Table of Contents
Discovery: Finding the Projects
Picking the Best Projects
Who Are All These People?
Initiating Your Project
Seven Essential Steps for a Successful Initiation
Download Free PDF / Read Online
Author(s): Meri Williams
Format(s): PDF
File size: 1.21 MB
Number of pages: 66
Link:
Download.