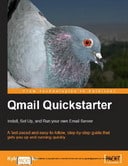 Free eBook offer from Packt Publishing. Get "Qmail Quickstarter: Install, Set Up and Run your own Email Server" in pdf format for free. You'll need to register or log in to your account.
Book Description
You'll need to register or log in to your account. This book is a quick starter for people who want to set up a mail server using qmail. It also discusses advanced features, like hosting multiple domains, in detail. By bringing together material that might take days to find online it will be a real timesaver for Sysadmins. What you will learn from this book : Installing, configuring, and compiling qmail, Getting emails in and out of the queue, along with storing, retrieving, and authenticating them, Virtualisation of domains and user management, filtering spam, and other advanced features like SSL encryption and mailing lists.
Table of Contents
Basic Qmail
Getting Email into the Queue
Getting Email Out of the Queue
Storing and Retrieving Email
Virtualization
Filtering
Advanced Features
Administration, Optimization, and Monitoring
Download Free PDF / Read Online
Author(s): Kyle Wheeler
Format(s): PDF
File size: 5.15 MB
Number of pages: 159
Link:
Download.