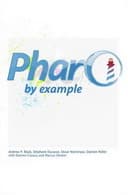 Free pdf ebook "Pharo by Example". Pharo is a modern open-source development environment for the classic Smalltalk-80 programming language. The book helps you get started with A Quick Tour of Pharo and guides you through A First Application.
Book Description
The Smalltalk language is introduced in the chapters Syntax in a Nutshell and Understanding Message Syntax. Development with Pharo is introduced in The Smalltalk Object Model, The Pharo Programming Environment and SUnit. Several of the key classes are presented in chapters on Basic Classes, Collections, Streams and Morphic. A chapter dedicated to Seaside by Example introduces web application development with the popular Seaside framework.
Table of Contents
A quick tour of Pharo
A first application
Syntax in a nutshell
Understanding message syntax
The Smalltalk object model
The Pharo programming environment
SUnit
Basic Classes
Collections
Streams
Morphic
Seaside by Example
Classes and metaclasses
Reflection
Download Free PDF / Read Online
Author(s): Stéphane Ducasse, Oscar Nierstrasz, Damien Pollet and Andrew P. Black.
Format(s): PDF
File size: 13.60 MB
Number of pages: 352
Link:
Download.