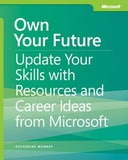 Free eBook "Own Your Future: Update Your Skills with Resources and Career Ideas from Microsoft" from Microsoft Press.
Book Description
In this book, students will find a wealth of Microsoft resources they can use to identify the technology skills they need, and gather knowledge and experience to help them take charge of their careers. Here at Microsoft, we care about students' career success and hope these resources will open doors to learning that will lead them to better opportunities and a deeper understanding of the way technology continues to change and improve the ways people work—both here in the U.S. and around the world.
Table of Contents
Imagine Your Potential: Assess Your Skills
Spotlight Your Learning Opportunities
Chart a Course for Career Growth
Survey the Learning Landscape
Fast-Track Your Skills with Online Tutorials and Local Training
Ramp Up Your Abilities in Vital Areas
Put Together a Career Marketing Plan
Invest in Specialized Skills for Tomorrow
Download Free PDF / Read Online
Author(s): Katherine Murray
Format(s): PDF
File size: 2.51 MB
Number of pages: 126
Link:
Book page.
|
PDF
|
XPS