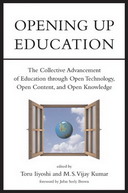 You can download the complete text or each chapter seperately of "Opening Up Education: The Collective Advancement of Education through Open Technology, Open Content, and Open Knowledge" published by MIT Press.
Book Description
Given the abundance of open education initiatives that aim to make educational assets freely available online, the time seems ripe to explore the potential of open education to transform the economics and ecology of education. Despite the diversity of tools and resources already available—from well-packaged course materials to simple games, for students, self-learners, faculty, and educational institutions—we have yet to take full advantage of shared knowledge about how these are being used, what local innovations are emerging, and how to learn from and build on the experiences of others. Opening Up Education argues that we must develop not only the technical capability but also the intellectual capacity for transforming tacit pedagogical knowledge into commonly usable and visible knowledge: by providing incentives for faculty to use (and contribute to) open education goods, and by looking beyond institutional boundaries to connect a variety of settings and open source entrepreneurs.
Table of Contents
Open Educational Technology
Open Educational Content
Open Educational Knowledge
Download Free PDF / Read Online
Author(s): Toru Iiyoshi and M. S. Vijay Kumar.
Format(s): PDF
File size: 4.35 MB
Number of pages: 500
Link:
Download.