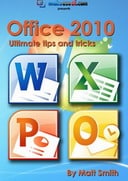 Download free pdf eBook "Microsoft Office 2010: Ultimate Tips & Tricks" by Matt Smith from MakeUseOf.com. This guide will show you how to: Get the most out of 2010's cloud capabilities, turn off the annoying file block feature, speed up document creation in Word with building blocks, present data at a glance with Excel's new Sparklines, edit video from within PowerPoint, broadcast a PowerPoint presentation over the web, live, adding social functionality to Outlook.
Book Description
This manual, by author Matt Smith, points out all the best new features of Microsoft's latest office suite, and explains them all in one handy guide. In most programs, it's not hard to find every single feature, but Office 2010 is so expansive that even veteran users will often find that they aren't expert in even half of the capabilities the software offers.

Whether you recently purchased Office 2010 and want to get the most out of it, or are considering an upgrade, you don't want to miss this free guide. There's much to be learned here.
Table of Contents
Introduction
Exploring Backstage
Word!
Excel
Power Up Powerpoint
Looking Out for Outlook
Download Free PDF / Read Online
Author(s): Matt Smith
Format(s): PDF
File size: 2.09 MB
Number of pages: 30
Link:
Download.