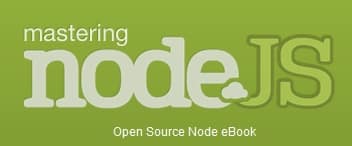 "Mastering Node.js", by TJ Holowaychuk who is a big contributor to the Node.js community, is still a work-in-progress. It is an open source eBook by node hackers for node hackers.
Book Description
Node is an exciting new platform developed by Ryan Dahl, allowing JavaScript developers to create extremely high performance servers by leveraging Google's V8 JavaScript engine, and asynchronous I/O. In Mastering Node we will discover how to write high concurrency web servers, utilizing the CommonJS module system, node's core libraries, third party modules, high level web development and more.
Table of Contents
Installing Node
Globals
Events
Buffers
Streams
File System
Download Free PDF / Read Online
Author(s): TJ Holowaychuk
Format(s): PDF, ePub, HTML
File size: 281 KB
Number of pages: 21
Link:
Download or read online.