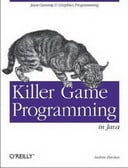 Free eBook "Killer Game Programming in Java" by Andrew Davison. Early draft version of this book is available in pdf format. Killer Game Programming in Java is a comprehensive guide to everything you need to know to program cool, testosterone-drenched Java games.
Book Description
It will give you reusable techniques to create everything from fast, full-screen action games to multiplayer 3D games. In addition to the most thorough coverage of Java 3D available, Killer Game Programming in Java also clearly details the older, better-known 2D APIs, 3D sprites, animated 3D sprites, first-person shooter programming, sound, fractals, and networked games. Killer Game Programming in Java is a must-have for anyone who wants to create adrenaline-fueled games in Java.
Table of Contents
Why Java for Games Programming?
An Animation Framework
Worms in Windows and Applets
Full-Screen Worms
Images, Visual Effects, and Animation
Shapely (non-rectangular) Applications
Sound, Audio Effects, and Music Synthesis
A Side Scroller
An Isometric Tile Game
Touring the Town
Scratchable Java
Automatic Wallpapering
On-the-Fly Dynamic Compilation and Execution
Executing Pixels using Drag-and-Drop
Tracing with JPDA
Visualization with Whorld
Program Sonification
Steganography
Video Watermarking with Barcodes
A Compiler for Drawing Crop Circles
Webcam Snaps
Motion Detection
A Motion-tracking Missile Launcher
Blobs Drumming
Controlling a Robot Arm
Topcodes and the Robot Arm
Face Detection and Tracking
Face Recognition
Kinect Imaging
A Points Cloud for Depths
ArniesTracker
Viewing Users in 3D
QR Codes
Introducing Java 3D
'Introduction to Java 3D' Slides
A 3D Checkboard
Loading and Manipulating External Models
Augmented Reality with NyARToolkit
Using a Lathe to Make Shapes
3D Sprites
Animated 3D Sprites
An Articulated, Moveable Figure
Particle Systems
Flocking Birds
Shooting a Gun
A First-Person Shooter
A 3D Maze
Fractal Land
Terrain Generation with Terragen
Trees that Grow
Playing Movies in a Java 3D World
Networking Basics
Network Chat
A Networked Two-Person Game
Networked Tour3D
Using Web Service APIs
GPS Mapping and Geotagged Images
Geolocation without GPS
An Echoing Client/Server Application using Bluetooth
Download Free PDF / Read Online
Author(s): Andrew Davison
Format(s): PDF
Number of pages: 1008
Link:
Download.