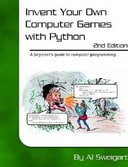 Download the free eBook "Invent Your Own Computer Games with Python 2nd Edition" in pdf format or read online. This book will teach you how to program your own computer games. You will learn a useful skill and have fun games to show for it.
Book Description
This book is for: Anyone who wants to teach themselves computer programming, even if they have no previous experience programming. Kids and teenagers who want to learn computer programming by creating games. Kids as young as 9 or 10 years old should be able to follow along. Adults and teachers who wish to teach others programming. Anyone, young or old, who wants to learn how to program by learning a professional programming language.
Table of Contents
Installing Python
The Interactive Shell
Strings
Guess the Number
Jokes
Dragon Realm
Using the Debugger (new!)
Flow Charts
Hangman
Tic Tac Toe
Bagels
Cartesian Coordinates
Sonar
Caesar Cipher
Reversi
AI Simulation
Graphics and Animation
Collision Detection and Input
Sound and Images
Dodger
Download Free PDF / Read Online
Author(s): Al Sweigart
Format(s): HTML(Online)
File size: –
Number of pages: 376
Link:
Read online.