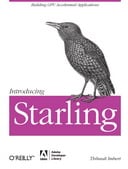 "Introducing Starling: Building GPU Accelerated Applications", published by O'Reilly Media, is freely available in several ebook formats from O'Reilly shop.

Book Description
Starling allows you to leverage GPU acceleration quickly and easily, through the use of simple ActionScript 3 APIs. Starling allows developers to leverage the power of Stage3D, without having to dig into the low-level details of Stage3D.

This book is for any person interested in learning about Stage3D in Flash Player 11 and Adobe AIR 3. As a Flash developer, it is also important that you learn and discover new things like GPU programming. By digging into Starling's source code to see how GPUs work, you will also become a better developer.
Table of Contents
What Is Starling?
Why Starling?
Philosophy
How
Layering Restrictions
Getting Started
Setting Up Your Scene
Wmode Requirements
Stage Quality
Progressive Enhancements
The Display List
Event Model
Touch Events
Texture
Flat Sprites
MovieClip
Juggler
Button
TextField
RenderTexture
Tweens
Asset Management
Handling Screen Resizes
Plugging Starling with Robotlegs
Plugging Starling with Box2D
Profiling Starling
Particles
Download Free PDF / Read Online
Author(s): Thibault Imbert
Format(s): DAISY, ePub, Mobi, PDF
File size: 7.33 MB
Number of pages: 124
Link:
Download.