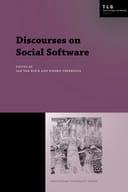 "Discourses on Social Software" can be downloaded in pdf format for free. The unusual format of a series of discussions among a logician, a computer scientist, a philosopher and some researchers from other disciplines encourages the reader to develop his own point of view. The only requirements for reading this book are a nodding familiarity with logic, a curious mind, and a taste for spicy debate.
Book Description
The intended readership of the present volume is quite broad: we hope the book will appeal to a wide range of scienti cally minded readers willing to look beyond the borders of their own specialisms. Anyone to which this
description applies, and who has a bit of knowledge of mathematics and logic, should be able to grasp what goes on in the discourses. We have tried to make sure that speci c expertise in any of the elds contributing to "Games, Action and Social Software" is not required.
Table of Contents
Introductory Conversation
Replies to Angry, Prag and Star
What is Social Software?
A Guest Lecture on Social Software
Social Software and the Social Sciences
On Social Choice Theory
Ends and Means, Values and Virtues
Common Knowledge and Common Belief
Game Theory, Logic, and Rational Choice
What is Protocol Analysis?
Protocol Analysis and Dynamic Epistemic Logic
Battle of the Logics
Eating from the Tree of Ignorance
On Collective Rational Action
Social Software and the Ills of Society
Download Free PDF / Read Online
Author(s): Jan van Eijck and Rineke Verbrugge.
Format(s): PDF
File size: 2.90 MB
Number of pages: 270
Link:
Download.