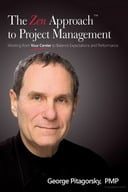 You can read the full text of "The Zen Approach to Project Management: Working from Your Center to Balance Expectations and Performance" online for free in Google Books.
Book Description
The Zen approach to Project Management brings together sound wisdom, a nuts-and-bolts grasp of practicalities, and original insights. It's the Zen that's been missing in all too many of today's business books, and George Pitagorsky is the master we've needed. Daniel Goleman, author Social Intelligence.
Table of Contents
Managing Your Projects Wisely
Zen
Goals
Pushing Back to Negotiate
Avoiding Risk Management Avoidance
Delivering Quality Results
Quality Performance and People
To Perfect the Outcome Perfect the Process
The Balance between Structure and Flexibility
Workings in Teams
Managing from Your Center
How to Manage Projects
What is Zen? Historical Perspective
Download Free PDF / Read Online
Author(s): George Pitagorsky
Format(s): HTML
Number of pages: 272
Link:
Read online.