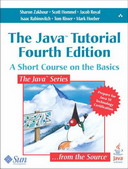 Download "The Java EE 6 Tutorial Volume I 4th Edition" in pdf format or read it online for free.
Book Description
With the JavaTM Platform, Enterprise Edition (Java EE), development of Java enterprise applications has never been easier or faster. The aim of the Java EE platform is to provide developers with a powerful set of APIs while reducing development time, reducing application complexity, and improving application performance. This tutorial uses examples to describe the features and functionalities available in the Java EE platform for developing enterprise applications. Whether you are a new or experienced Enterprise developer, you should find the examples and accompanying text a valuable and accessible knowledge base for creating your own solutions.
Table of Contents
Introduction
The Web Tier
Web Services
Enterprise Beans
Contexts and Dependency Injection for the Java EE Platform
Persistence
Security
Java EE Supporting Technologies
Case Studies
Download Free PDF / Read Online
Author(s): Eric Jendrock, Ian Evans, Devika Gollapudi, Kim Haase, Chinmayee Srivathsa
Format(s): HTML, PDF
File size: 11.88 MB
Number of pages: 906
Link:
Download or read online.