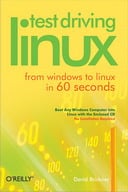 Free Linux book from O'Reilly Commons, "Test Driving Linux: From Windows to Linux in 60 Seconds" is a detailed step-by-step guide to the Linux operating system and several popular open source programs.
Book Description
With this guide you can quickly learn how to use Linux to perform the tasks you do most: surf the web, send and receive email, instant message with friends, write letters, create spreadsheets, and even how to enhance your digital photos.
Table of Contents
Surf the Web
File Management
Music and Videos
Play Games
Email, Organizers, and Instant Messaging
Edit Digital Images
Customize Your Desktop
A Free Office Suite
Manage Your Finances
The Command Line
Great Programs That Aren't on the CD
Pre-Switching Information
Solutions to Common Problems
Download Free PDF / Read Online
Author(s): David Brickner
Format(s): HTML
Number of pages: 368
Link:
Read online.