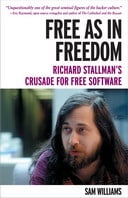 "Free as in Freedom: Richard Stallman's Crusade for Free Software" interweaves biographical snapshots of GNU project founder Richard Stallman with the political, social and economic history of the free software movement. It examines Stallman's unique personality and how that personality has been at turns a driving force and a drawback in terms of the movement's overall success.
Book Description
Richard M. Stallman is an American software freedom activist and computer programmer. In September 1983, he launched the GNU Project to create a free Unix-like operating system, and he has been the project's lead architect and organizer. With the launch of the GNU Project, he initiated the free software movement; in October 1985 he founded the Free Software Foundation.
Stallman pioneered the concept of copyleft, and he is the main author of several copyleft licenses including the GNU General Public License, the most widely used free software license. Since the mid-1990s, Stallman has spent most of his time advocating for free software, as well as campaigning against software patents, digital rights management, and what he sees as excessive extension of copyright laws. Stallman has also developed a number of pieces of widely used software, including the original Emacs, the GNU Compiler Collection, the GNU Debugger, and various tools in the GNU coreutils. He co-founded the League for Programming Freedom in 1989.
Table of Contents
For Want of a Printer
2001: A Hacker's Odyssey
A Portrait of the Hacker as a Young Man
Impeach God
Small Puddle of Freedom
The Emacs Commune
A Stark Moral Choice
St. Ignucius
The GNU General Public License
GNU/Linux
Open Source
A Brief Journey Through Hacker Hell
Continuing the Fight
Epilogue: Crushing Loneliness
Download Free PDF / Read Online
Author(s): Sam Williams
Publisher: O'Reilly Media
Format(s): HTML
Number of pages: 240
Link:
Read online.