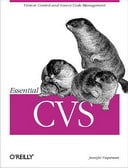 Free CVS book from O'Reilly Commons. Essential CVS is a complete and easy-to-follow reference that helps programmers and system administrators apply order to the task of managing large quantities of documents.
Book Description
This book covers basic concepts and usage of CVS, and features a comprehensive reference for CVS commands–including a handy Command Reference Card for quick, on-the-job checks. It also includes advanced information on all aspects of CVS that involved automation, logging, branching and merging, and "watches."
Table of Contents
What Is CVS?
CVS Quickstart Guide
Basic Use of CVS
Tagging and Branching
Multiple Users
Repository Management
Project Management
Remote Repositories
Troubleshooting
Command Reference
Miscellaneous Topics Reference
Download Free PDF / Read Online
Author(s): Jennifer Vesperman
Format(s): HTML
Number of pages: 336
Link:
Read online.