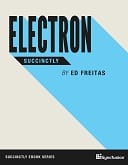 With the Electron framework, web apps can be brought seamlessly to desktop environments, opening up new avenues for developers. In Electron Succinctly, author Ed Freitas serves as a guide to getting started with Electron.
Book Description
Topics included: Getting Started • Basic Building Blocks • Expanding the App • Packaging the App
Download Free PDF / Read Online
Author(s): Ed Freitas
Publisher: Syncfusion Inc.
Published: April 2019
Format(s): PDF, Mobi(Kindle), ePub, Online
File size: 2.10 MB
Number of pages: 131
Download / View Link(s): Download or read online