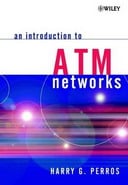 "An Introduction to ATM Networks", written by Harry G. Perros, is free to download in pdf format. This is a textbook for graduate students and undergraduates in electrical engineering and computer science as well as a reference work for networking engineers.
Book Description
This introductory well-structured text on ATM networks describes their development, architecture, congestion control, deployment, and signalling in an intuitive, accessible way. It covers extensive background information and includes exercises that support the explanations throughout the book.
Table of Contents
Introduction
Basic Concepts From Computer Networks
Frame Relay
Main Features of ATM Networks
The ATM Adaptation Layer
ATM Switch Architectures
Congestion Control in ATM Network
Transporting IP Traffic Over ATM
ADSL-Based Access Networks
Signalling Over the UNI
The Private Network-Network Interface (PNNI)
Download Free PDF / Read Online
Author(s): Harry G. Perros
Publisher: Wiley
Format(s): PDF
File size: 3.76 MB
Number of pages: 304
Link:
Download.