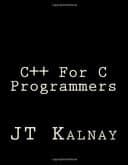 "C++ for C Programmers" by JT Kalnay is available in multiple formats for free. This is a textbook of C++ examples intended for C programmers. This book is not a starting point for new C++ programmers who do not know C. It is a transition tool for C programmers.
Book Description
This book assumes that you are already a GOOD C programmer and are able to learn well on your own. Simple ( and peripheral ) C++ concepts such as the cout/cin i/o mechanisms and how they replace printf/scanf … are left to the end or for the reader. To ease the learning curve, and to focus on the compelling differences between C and C++, many C functions are used in place of the identical corresponding C++ rewrites.
Table of Contents
Non Class Issues
Data Hiding
The Evolution From struct To class
Inheritance
Memory Allocation
C++ I/O
Download Free PDF / Read Online
Author(s): JT Kalnay
Publisher: CreateSpace
Format(s): PDF, HTML, Mobi, ePub, RTF, PDB, LRF, Text
File size: 996 KB
Number of pages: 344
Link:
Download or read online.