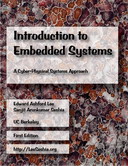 "Introduction to Embedded Systems: A Cyber-Physical Systems Approach", written by Edward A. Lee and Sanjit A. Seshia, is available in pdf format for free. This book is intended for students at the advanced undergraduate level or the introductory graduate level, and for practicing engineers and computer scientists who wish to understand the engineering principles of embedded systems.
Book Description
This book strives to identify and introduce the durable intellectual ideas of embedded systems as a technology and as a subject of study. The emphasis is on modeling, design, and analysis of cyber-physical systems, which integrate computing, networking, and physical processes. This book is divided into three major parts, focused on modeling, design, and analysis.
Table of Contents
Introduction
Continuous Dynamics
Discrete Dynamics
Hybrid Systems
Composition of State Machines
Concurrent Models of Computation
Embedded Processors
Memory Architectures
Input and Output
Multitasking
Scheduling
Invariants and Temporal Logic
Equivalence and Refinement
Reachability Analysis and Model Checking
Quantitative Analysis
Download Free PDF / Read Online
Author(s): Edward A. Lee and Sanjit A. Seshia
Publisher: Lulu.com
Format(s): PDF
File size: 22.64 MB
Number of pages: 511
Link:
Download.