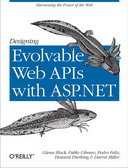 O'Reilly Media has released "Designing Evolvable Web APIs with ASP.NET: Harnessing the power of the web", by members of Microsoft's Web API team, on Open Feedback Publishing System.
Book Description
This practical guide shows you how to build RESTful applications with ASP.NET Web API framework, starting with the basics and concluding with advanced topics. Led by members of Microsoft's Web API team, you'll learn how to integrate Web API into both Web Forms and MVC projects, including security and testing.
Table of Contents
Web APIs and the web architecture
ASP.NET Web API 101
Processing Architecture
Hosting
Formatters and Model Binding
HttpClient
Security
Testability
Download Free PDF / Read Online
Author(s): Glenn Block, Pablo Cibraro, Pedro Felix, Howard Dierking, Darrel Miller
Publisher: O'Reilly Media
Format(s): HTML(Online)
Number of pages: 350
Link:
Read online.